Women Entrepreneurship in MENA: The Cases of Bahrain, Lebanon, and Tunisia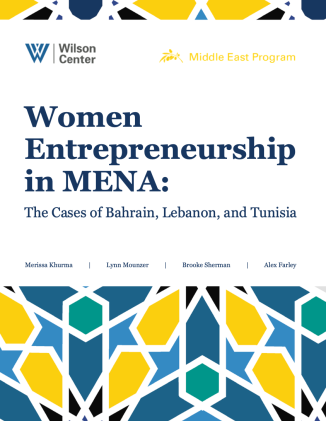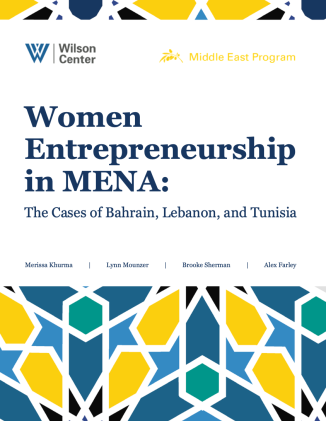 In March 2020, the Middle East Program's Middle East Women's Initiative (MEWI) published its flagship report Ready to Lead: Understanding Women'sLeadership in MENA's Public Sector. One of the report's key findings includes a strong, positive relationship between asset ownership and women's leadership in the public sector. Like the women leadership deficit seen in the public sector, there is a deficit in the private sector, as well. The Middle East and North Africa region has one of the lowest levels of women's labor force participation, averaging at 19 percent – compared with the global average of 46 percent – and only one in four businesses is owned by women.
Women and Entrepreneurship in the MENA Region aggregates datasets from various national, regional, and global sources to better explain why women entrepreneurship in the MENA region continues to lag behind, despite striking progress in education, particularly tertiary education. While this report presents data on the entire region, it delves into three case studies—on Bahrain, Lebanon, and Tunisia—in order to identify why gender gaps in entrepreneurship persist and what has been accomplished thus far that can inform efforts to close this gender gap. The report also maps and critically compares public policies for women's entrepreneurship, identifies gaps in policy provision, and highlights examples of good practices that support women's entrepreneurship in these three countries.
---
Middle East Program
The Wilson Center's Middle East Program serves as a crucial resource for the policymaking community and beyond, providing analyses and research that helps inform U.S. foreign policymaking, stimulates public debate, and expands knowledge about issues in the wider Middle East and North Africa (MENA) region. Read more
Middle East Women's Initiative
The Middle East Women's Initiative (MEWI) promotes the empowerment of women in the region through an open and inclusive dialogue with women leaders from the Middle East and continuous research. Read more