Navigating Breakup: Security Realities of Freezing Politics and Thawing Landscapes in the Arctic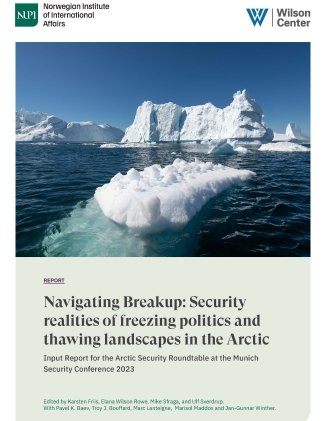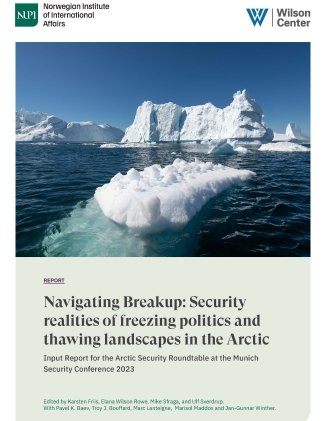 Russia's re-invasion of Ukraine in February 2022 has had immediate and ongoing effects for Arctic security and cooperative governance at both a regional and international level. The region is impacted by the increased sanctions, the withdrawal of Western companies from Russia, the Western disconnect from energy dependencies, and has also witnessed an increase in hybrid security incidents.  In addition, climate change continues at to change the environment at a staggering pace in the north.
This report is an input to the Arctic Security Roundtable (ASR) and the Munich Security Conference, February 2023. It provides insights into both established and novel drivers of change in Arctic and security governance. Chapters cover the impacts of climate change on the physical environment, human security and the Arctic region's military operational environment, and review the regional security policies of the three major powers (USA, China and Russia).
The report argues leaders must continue to address Arctic governance challenges and take concrete steps to mitigate and manage risks, regardless of the cessation of cooperation with Russia and the radical uncertainty shaping the broader political environment. Key recommendations are:
Double down on international climate diplomacy
The Arctic states (minus Russia), with their comparatively shared positions on climate change and the necessity of a green shift, are well situated to cooperate in global climate negotiations and should prioritize coordinated efforts at the global level.
Honor Arctic Council work and efforts through national implementation
Arctic Council actors could use the current situation to consider – and perhaps advance – the knowledge base and implement at the national and sub-national levels actionable recommendations that have been produced over the past two decades of coordinated circumpolar.
Pursue inclusive, routinized informality
For as long as the Arctic Council's activities are scaled back, paused or pursued informally, states must ensure that meeting channels are inclusive of relevant rights-holders – specifically, the Indigenous representatives that convene alongside states in formal Arctic Council settings.
Support Arctic science infrastructure and databases
The Arctic Council nations (minus Russia), as well as the EU and many (if not all) the Arctic Council observer states, could bring expertise, financial resources and applicable technologies to bear on monitoring dramatic change in a region plagued by the tyranny of distance and a dearth of information and datasets.
Ensure firm and clearly signaled deterrence
Given the reduction of diplomatic contact with Russia in the Arctic, the burden of signaling now lies even more squarely in the military/security sphere. Deterrence must be firm but balanced, aimed at sending a signal of commitment and resolve rather than aggression. When Sweden and Finland eventually join NATO, allied military activity in the region should continue to adopt a defensive posture.
Maintain existing military-relevant agreements
While new initiatives are unrealistic in the current political climate, existing INCSEA agreements and similar CSBM arrangements should be maintained.
Pursue communication and notification
Lines of communication can aid in deconfliction. As such, communication lines between military headquarters should be kept open. Western powers and NATO must continue to notify applicable countries of military exercises within the wider framework of the Vienna document, even if Russia does not.
---
Polar Institute
Since its inception in 2017, the Polar Institute has become a premier forum for discussion and policy analysis of Arctic and Antarctic issues, and is known in Washington, DC and elsewhere as the Arctic Public Square. The Institute holistically studies the central policy issues facing these regions—with an emphasis on Arctic governance, climate change, economic development, scientific research, security, and Indigenous communities—and communicates trusted analysis to policymakers and other stakeholders. Read more