Sub-Saharan African Migrants in North Africa: Morocco Shows a Way Forward
Sub-Saharan African migrants seeking passage to Europe increasingly reside in North African countries. However, they still face racism and discrimination in Arab lands. Morocco, having embraced regional cooperation with West Africa, shows a better way forward through greater integration of the African continent.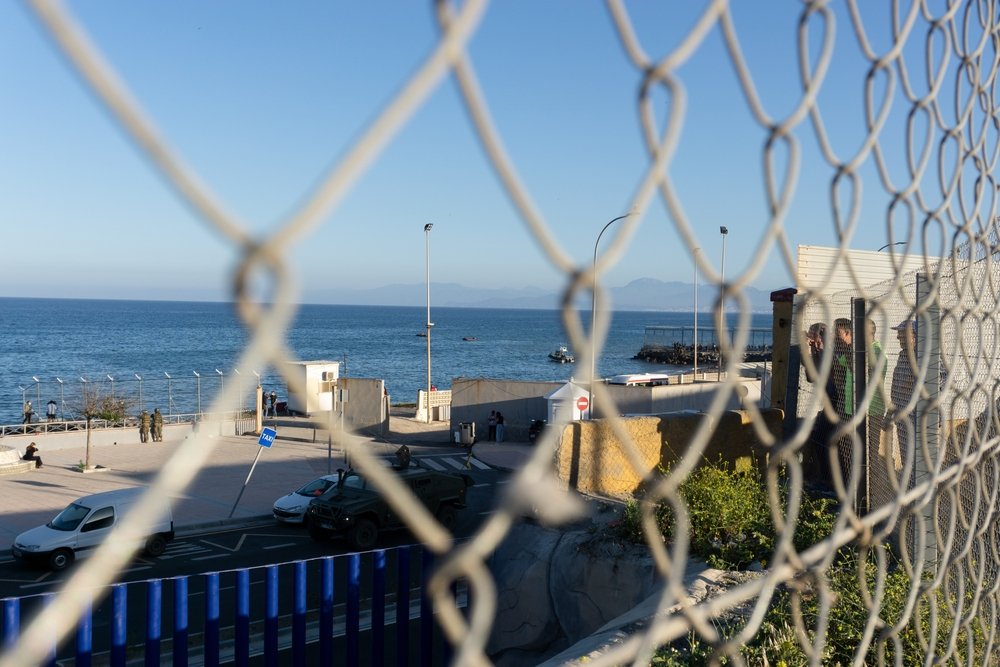 In recent decades, a Sub-Saharan African migrant community has come to "reside" in Morocco and other North African countries—legally or illegally. Most are seeking passage to Europe, which does everything possible to thwart them, including providing funds to security services in countries that do not follow democratic practices to restrain irregular migration.  
Some African migrants also come to Morocco for education or for better life opportunities. The Moroccan government places their numbers at nearly 100,000 souls, most without paperwork supporting their right to live and work in Morocco. 
Experiences of racism  
The Black African migrant community in Morocco has faced rare but sometimes extreme discrimination and hostility manifesting in both verbal and physical violence. 
Black migrants are blamed for many social ills: taking jobs from Moroccans, delinquency, disease (AIDs especially), prostitution, drug dealing, rape and kidnapping of Moroccan women, low levels of education, and "savage" behavior. 
On a Moroccan campus a young Black man, a Malian student, was savagely beaten, spat upon, and called qird (monkey), k'hal (Black), and 'abd (slave) by several thugs. He would be dead, too if his strident cries had not alerted campus guards. On the same campus, a Liberian student was attacked by several Moroccans and stabbed in the stomach. As they fled, one shouted, "Next time, we will kill you! And that's true for all your comrades, send them that message dirty Azzi (N-word)." Squatter sites of Black migrants have been attacked, leading to beatings and murders in Morocco, especially in and around Tangiers.  
Initially, the Moroccan government reacted passively to these developments. There was no path to legal status for African migrants working illegally (for lower pay than most Moroccans were willing to accept). The security services rounded up migrants, imprisoned some, evicted others to the Algerian desert, and blocked paths to Europe (Baldwin-Edwards, 2006). There was little leadership to protect African migrants and address a deteriorating relationship with Sub-Saharan Africa. 
Morocco pivots to Africa 
This all began to change once King Mohammad VI took a productive, regional policy toward Sub-Saharan Africa and a more humane approach to African migrants. In 2017, after an absence of 33 years, Morocco rejoined the African Union (AU), announcing: "At a time when the Kingdom is among the most developed African nations…we have decided to join our family again." 
Creating stronger partnerships with Sub-Saharan African countries helps Morocco grow and diversify its own economy (It also helps build support on the continent for the kingdom's Western Sahara policy.) 
The King has recognized the need for new markets and positioned Morocco to benefit from the economic and demographic growth expected in Sub-Saharan Africa in the coming years, expanding investment and business operations in the region.  
Accompanied by business delegations, the King has led a series of high-profile visits to African countries, which has produced large-scale investments. Between 2003 and 2017, Morocco invested 37 billion dirhams (roughly 9 billion Euros) in Africa, making up around 60% of the country's overseas investment and making it the leading African investor in West Africa, second only to South Africa as the largest African investor across the continent. 
To expand its market share in Sub-Saharan Africa, Morocco applied to join the 15-member Economic Community of West African States (ECOWAS) in 2017; its bid was approved in principle but has been stalled by pressure from private sectors concerned about Moroccan competition. Beyond investment, Morocco's Africa strategy under Mohammed VI includes development training, education, and religious training. Its partnership with 46 other African countries provides humanitarian assistance and capacity building in public administration, health, power generation, and rural electrification. It continues to bring students from across Africa to the country for higher education and has taken steps to protect them. By law, all Sub-Saharan African children in Morocco have unrestricted access to public education. 
Divergent narratives in North Africa  
Morocco has also taken the lead on African migration. It has moved beyond a repressive approach to the irregular migration of Black Africans from Morocco to Europe. It launched a comprehensive migration reform drive that has offered legal status to nearly 50,000 migrants from Sub-Saharan Africa. King Mohammed VI was given a lead role on migration issues in the African Union and secured an AU agreement to host a new African Observatory on Migration, which tracks migration dynamics and coordinates government policies on the continent. 
Moving in the opposite direction of other North African countries, and its own recent history, Morocco's policy has evolved to champion a pan-African identity, with Mohammed VI emerging as a leader on the continent. 
Morocco is demonstrating its will to affirm the African dimension of its identity and no longer be considered a purely Arab-Muslim country. 
It has become a champion of migration within the AU, disseminating a model across the continent promoting migration as a path to development and combatting preconceived ideas painting it as a security problem. 
But if Mohammed VI of Morocco is illuminating a humane and productive way forward for the African continent, Tunisian President, Kais Saied, is leading the way backward. In February 2023, Saied called migrants from other parts of Africa "pawns" (of whose, who knows?) in a "criminal plot" to make his predominantly Arab and Muslim nation "a purely African country." Amplifying the theme of replacement, in a speech at the National Security Council, Saied said, "The undeclared goal of the successive waves of illegal immigration is to consider Tunisia a purely African country that has no affiliation to the Arab and Islamic nations."  
Repression and abuse quickly followed Saied's declarations. Sub-Saharan African migrants were barred from public transportation, lost jobs, evicted from their homes, beaten up, and robbed. Documented and undocumented Black African migrants, including pregnant women and children, were collectively deported without due process to a dangerous no man's land in the Sahara Desert with little food and water. 
The treatment of African Migrants—documented and undocumented—in other North African countries is more like Tunisia than Morocco and demands reform. 
Algeria's management of Sub-Saharan African migration demonstrates its exclusive focus on security concerns. It emphasizes large-scale arrests and deportations, often to anywhere in the Sahara Desert beyond its borders. As in Morocco (and Tunisia), Sub-Saharan African students, in Algeria legally, are shocked by the verbal insults and physical aggression they face due to the color of their skin. Yet the Algerian government has not taken steps to protect them or control xenophobic media. 
Racist treatment in Libya and Egypt 
Meanwhile, in Libya, Black migrants are stigmatized as former slaves who can still be treated as such. According to a report by the United Nations, CNN, and other outlets, human trafficking and slave trading of Sub-Saharan African migrants emerged and rose rapidly in the violence and chaos of post-Qaddafi Libya. 
One man recounted his experience in Libya: "There is complete lawlessness there. Everyone has guns and knives. There are no rights for Black people, even someone who has been stabbed or shot." 
Egypt hosts more than six million migrants, more than half from Sudan and South Sudan, with others from Eritrea, Somalia, and Ethiopia. The country is a destination or haven for some and a transit point for desperate attempts to cross the Mediterranean for others. Those that find menial work in the informal economy are paid half as much as Egyptians. 
Sub-Saharan African migrants, refugees, and asylum seekers are routinely targeted for periodic security roundups. In 2005, riot police brutally attacked a Sudanese refugee camp and killed at least 28 refugees in front of TV cameras. In 2022, Egyptian police arrested at least 30 Sudanese refugees and asylum seekers.  
Some were activists targeted for mobilizing protests at the Cairo headquarters of the UN refugee agency, UNHCR, over harassment, racist treatment, lack of protection, and resettlement delays. They were also subjected to baton beatings, racial insults, and forced physical labor—unloading boxes from trucks with Tahya Misr ("Long Live Egypt") written on them, referring to a program in which the military distributes goods in poor districts—without compensation. 
Black African migrants face degrading treatment from some Egyptian citizens as well: 
"We are treated like dogs…On my way to university, on the microbus, no Egyptian will sit beside a Sudanese person…They tell us things like 'there's no point taking a shower because we are dirty anyway.' This is my color, what should I do!? I can't wash it off, I can't do anything. My little brothers are now psychologically affected and ask me why our color won't go away every time they shower. They are young; they are in primary school and kindergarten; why should they grow up on these beliefs? Sometimes they refuse going to school to avoid hearing these things." 
Moroccan policy demonstrates that migration from Sub-Saharan Africa to North Africa, regardless of destination, does not have to be a security concern for Europe or North Africa. It can potentially help develop the entire continent and contribute to the fight against the insidious racism faced by Black African migrants in North Africa (and Europe).  
Leadership is key. Dubbed the King of Cool by Time Magazine a year after his ascension to the throne in 1999, Mohammed VI may have secured his position as an elder statesman on the continent by pursuing this enlightened strategy.  
The views expressed in these articles are those of the author and do not reflect an official position of the Wilson Center.
About the Author
---
Middle East Program
The Wilson Center's Middle East Program serves as a crucial resource for the policymaking community and beyond, providing analyses and research that helps inform U.S. foreign policymaking, stimulates public debate, and expands knowledge about issues in the wider Middle East and North Africa (MENA) region. Read more
Africa Program
The Africa Program works to address the most critical issues facing Africa and U.S.-Africa relations, build mutually beneficial U.S.-Africa relations, and enhance knowledge and understanding about Africa in the United States. The Program achieves its mission through in-depth research and analyses, public discussion, working groups, and briefings that bring together policymakers, practitioners, and subject matter experts to analyze and offer practical options for tackling key challenges in Africa and in U.S.-Africa relations.   Read more