Preventing the Next Kabul: Confronting the Houthi's Violent Suppression of Women in Yemen
Since 2014, the Houthi militia has abducted and tortured hundreds of women and forced their seclusion through indoctrination with foreign ideology. The violations of women's rights and international norms cannot go unpunished unless Sana'a is to become a second Kabul.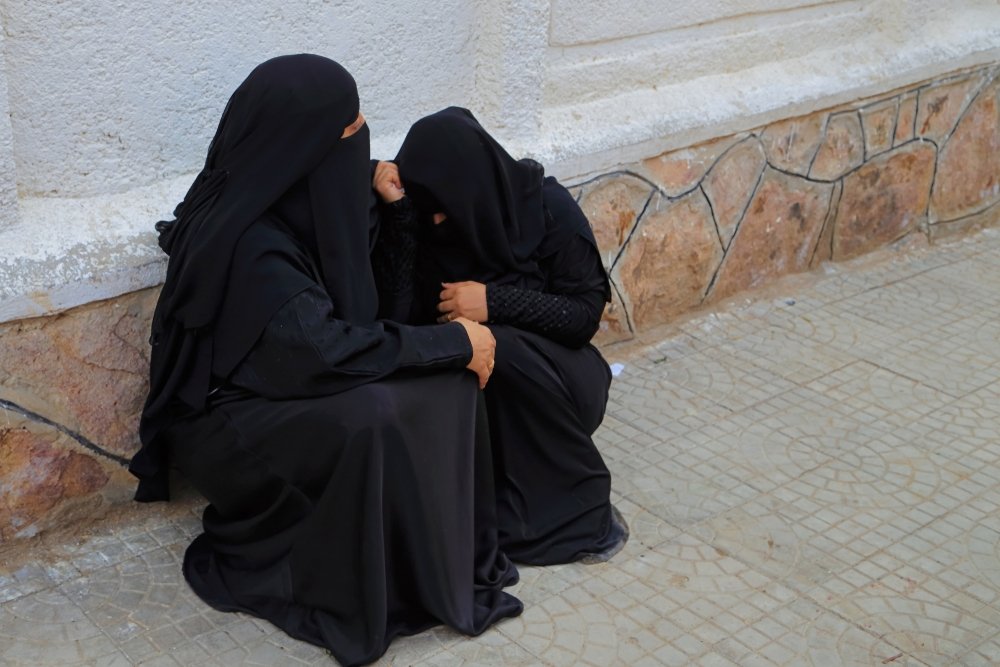 While the world celebrates International Women's Day this month, Yemeni women are suffering an unprecedented hell due to the ongoing conflict triggered by the Houthis coup against the elected government in 2015. Before the coup, Yemeni women had achieved amazing progress, especially during the transitional period between 2012 and 2014. The Comprehensive National Dialogue Conference ensured women active political participation by no less than 30 percent in all decision-making positions. Today women cannot even move from one region to another within their homeland without a "mahram," or male escort.  
In addition to the repressive measures that deprive women of their rights, the deeper problem is the cultural indoctrination that is instilled through the media and cultural policies...
However, the Houthi militia's harassment, suppression, and heinous treatment of women is not the only problem that must be addressed. In addition to the repressive measures that deprive women of their rights, the deeper problem is the cultural indoctrination that is instilled through the media and cultural policies that are applied in schools and universities, aiming to limit women to a mere reproductive role. This is driven by the jihadi ideology to produce child soldiers to fuel wars, pushing women to stay at home instead of becoming a doctor, judge, or ambassador. These policies are destructive for society and will impact future generations, leading Yemen down the path of the Taliban and other radical groups that threaten peace and security at home and in the world at large. 
Ideological indoctrination  
Houthis treat women as an "evil" that threatens the righteousness of youth. They must be controlled and isolated in homes or at least removed from sight in the public domain so as not to distract them from their primary role, which is jihad for the sake of the leader and his interests. 
Mosques, school curricula, and media are used to disseminate this culture and consolidate values based on the jihadist ideology towards the role of women in society. It considers women the weak point through which enemies will invade the identity of the faith and drag Islamic societies into corruption and moral decay. 
In my capacity as minister of Information and Culture in Yemen, I receive many sad stories about Houthi attempts to impose extreme concepts on Yemeni culture. Women in areas controlled by the militia are gradually leaving their productive roles in society to devote themselves to making "mujahideen," or holy warriors. For instance, some women were forced to leave their jobs due to salary suspension and, following the deprivation of their means of livelihood, turned to extremist mobilization through a security arm of the militia known as the "Zainabiyyat," similar to the women's security unit in Iran, the "Faraja." 
[The group] uses schools to recruit children and mobilize female students at the primary level by inculcating the concepts of jihad and fighting in their minds...
This group is involved in suppressing women's protests, raiding homes, kidnapping women involved in politics, media, and civil society, and spying on women-only groups by monitoring private sessions or even group conversations on WhatsApp. It uses schools to recruit children and mobilize female students at the primary level by inculcating the concepts of jihad and fighting in their minds; extremist ideas that are imported from Iran that indoctrinate young females to marry and give birth to martyrs, which will get them to paradise. 
The tragedy of Yemeni women in areas controlled by the Houthis is not limited to the propaganda and cultural policies that it spreads through its media and extremist religious platforms. Limiting women's role to produce fighters is in line with other policies such as preventing women from accessing reproductive health services, especially contraceptives, and the policy of restricting women's movement between governorates and traveling through the Sana'a airport "without a mahram." Furthermore, the Houthi militia, just like the Taliban in Afghanistan, has banned women from working with organizations, using the phone, and applying cosmetics, prohibited them from going to restaurants except after presenting a marriage contract, banished them from sitting in public parks, and specified the method of tailoring and the colors of the clothes they wear. 
In addition to the repressive practices, crimes, and systematic violations that women have had to endure since 2014, the Houthi militia has abducted thousands from their homes, workplaces, public streets and checkpoints and took them to detention centers and secret prisons on trumped-up charges, subjecting them to all kinds of extortion, psychological and physical torture, harassment, and sexual assault for their political, media and human rights activities. This cruelty prompted the UN Security Council to issue Resolution 2564 in February 2021 to add Sultan Zabin, a leader of the Houthi militia who works as "Director of the Criminal Investigation Department" to the sanctions list for systematic intimidation, exploitation, detention, torture, sexual violence and rape against politically active women. 
Abductions and disappearances  
According to statistics documented by human rights organizations, the number of abducted women in Houthi detention centers since the coup amounted to 1,700 women, including human rights activists, journalists, and activists. Hundreds of them are still behind bars, while hundreds were released after pressure from their families and taking pledges not to participate in anti-militia protests or writing in the media and on social media platforms. 
A human rights report issued by " The Alliance of Women for Peace in Yemen" revealed that the Houthi militia committed more than 1,893 cases of abduction, torture, and rape against women from December 2017 to October 2022, including abduction of 504 women imprisoned in the central prison in Sana'a, abduction of 204 minors between the ages of 12 and 18, 283 cases of disappearances in secret prisons, and 193 illegal sentences on trumped-up charges of espionage, treason, and prostitution networks. 
Entisar Al-Hammadi, an artist and model, was kidnapped in February 2021 on a public street in Sana'a. Her captors charged her with committing an indecent act and drug possession, and offered her release if she helped entrap their enemies with "sex and drugs." She was subjected to a virginity test and sentenced to five years in prison and isolated in a solitary cell. She attempted suicide many times. 
In July 2022, the so-called Houthi Security and Intelligence Service kidnapped the feminist leader Fatima Saleh Al-Arwali, a human rights expert and head of the Yemen office of the Union of Women Leaders affiliated with the Arab League, because of a publication in which she criticized the crime of child recruitment and the conditions of women in militia-controlled areas. Since then, no charges have been brought against her, and she has not been allowed to communicate with her family. 
Asmaa Mater Al-Omeisy, a mother of two children, is another victim of the Houthi militia's crimes. She was kidnapped from a checkpoint and forcibly disappeared on October 7, 2016. A death sentence was issued against her, which was commuted to a prison sentence after reports of the deterioration of her health due to medical negligence, humiliating and cruel treatment, and the repeated threat of being killed. A death by firing squad sentence was also issued, against activists Hanan Al-Shahithi, Altaf Al-Matari, and Zafran Zayed, head of the Tamkeen Organization, on charges of communicating and cooperating with the legitimate government. 
Stopping the catastrophe  
These are just examples of the abuses of women held the detention centers of the Houthi militia. Dozens of survivors have managed to escape. Some have come forward with their accounts of brutal torture during interrogation sessions in the women's section of the central prison in Sana'a, which is run by Karima Al-Marwani (Umm Al-Karrar), including beatings with sticks, electric wires, electric shocks, slapping, suffocation, muffing, waterboarding, and nail pulling. 
This constitutes a real threat to all the gains Yemen has achieved over six decades making women active partners in the construction and development process. 
Yemeni women have been subjected to great pressure and suffered from difficult living conditions, like other Yemenis, due to the practices of the Houthis, including killing, kidnapping, torture, displacement, and policies of impoverishment and starvation. Their life has already turned into an unbearable hell with the escalation of repressive measures that limit their freedom and participation in public life and restrict their ability to move in the streets, public spaces, and places of work. This constitutes a real threat to all the gains Yemen has achieved over six decades making women active partners in the construction and development process. 
In the face of these tragedies, it has become the duty of the international community and human rights organizations to defend women's rights and combat violence against women. We must stop the ongoing Houthi violations against Yemeni women, which constitute war crimes and crimes against humanity and a flagrant violation of the Universal Declaration of Human Rights, the Covenant on Civil and Political Rights, and the Convention on the Elimination of All Forms of Racial Discrimination against Women. We must work immediately to release all abducted and forcibly disappeared women and prosecute the perpetrators of these crimes. 
To end this catastrophe, we must support the state's efforts to extend its control over all Yemeni territories and restore respect and decency for Yemeni women, granting them their natural rights as half of society. Immediate action is necessary to dry up the Houti funding sources, thus putting an end to its efforts to perpetuate its alien, extremist ideology that is imposed on society by force of arms and transforming the capital, Sana'a, into a second Kabul. 
The views expressed in these articles are those of the author and do not reflect an official  position of the Wilson Center.
About the Author
---
Middle East Program
The Wilson Center's Middle East Program serves as a crucial resource for the policymaking community and beyond, providing analyses and research that helps inform U.S. foreign policymaking, stimulates public debate, and expands knowledge about issues in the wider Middle East and North Africa (MENA) region. Read more