2023 State of the Union Address by President Ursula von der Leyen: How Will the EU Answer the Call of History? – Expert Quick Takes
Ahead of next year's European Parliament elections, President of the European Commission, Ursula von der Leyen, gave her State of the European Union (SOTEU) address in September 2023. In this article, we gather our experts' key takeaways from the SOTEU, providing a comprehensive analysis of the EU's recent achievements and the continued challenges facing the bloc.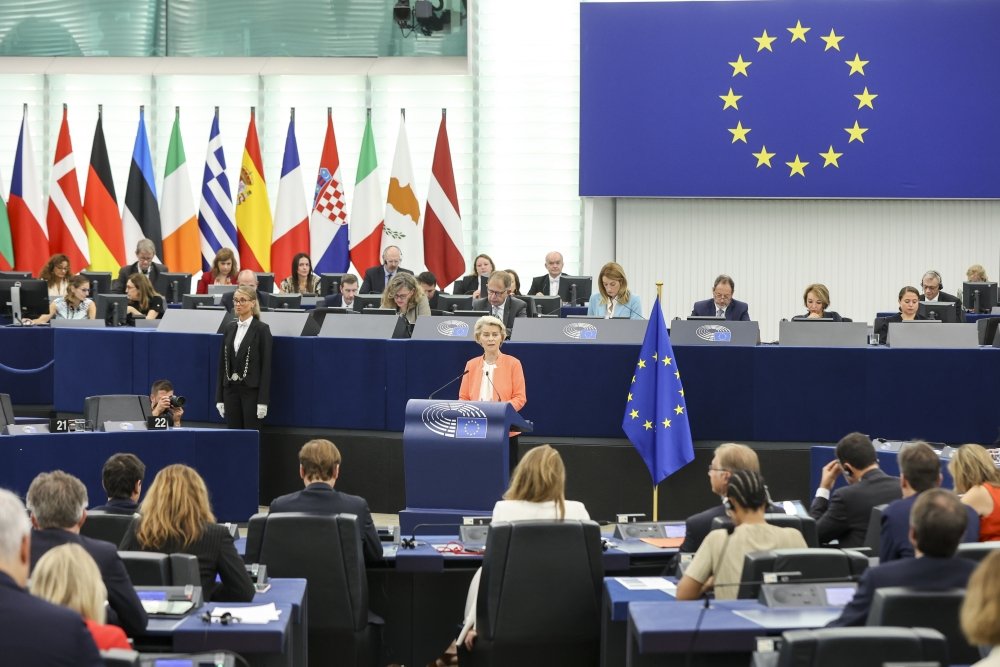 On September 13, 2023, the President of the European Commission Ursula von der Leyen gave her speech on the State of the Union (SOTEU). This is an annual event resembling the State of the Union address by the President of the United States to Congress. Every September, European Union (EU) lawmakers gather in Strasbourg—the official seat of the European Parliament—to assess the results and upcoming plans of the European Commission to tackle issues and challenges facing the EU. This was the last SOTEU speech of the current Commission President, whose mandate—together with the entire College of Commissioners—ends after the European Parliament elections in June next year. The speech delivered a positive appraisal of the Commission's work over the last four years and put forth short- and long-term goals for Europe to "write its own destiny". 
In this article, we gather our experts' key takeaways, reflections, and missed opportunities from the SOTEU, providing a comprehensive and insightful analysis of the EU's recent achievements as well as continued challenges facing the bloc. 
---
William Drozdiak, Global Fellow, Global Europe Program at the Wilson Center
Confronted by the risks of a faltering economy that could shed millions of jobs across the continent, the president of the European Commission Ursula von der Leyen vowed to devote the coming year ahead of European elections to invigorating Europe's business sector to avoid being overwhelmed by challenges from China and the United States. 
In her annual SOTEU speech to the European Parliament on September 13, von der Leyen emphasized that Europe could only achieve its geopolitical goals by greatly enhancing its ability to compete in leading industries and critical technologies. Above all, she said Europe must not lose the race to capture major world markets for electric vehicles (EV) in the way that Europe allowed China to drive its solar industry into oblivion a decade ago. 
Von der Leyen announced that the European Commission would launch an investigation into Chinese state subsidies for EV exports. These threaten to undermine European car manufacturers and cost millions of jobs, especially in her native Germany. "We have to be clear-eyed about the risks we face," she said. "Global markets are now flooded with cheaper Chinese electric cars and their prices are kept artificially low by huge state subsidies. This is distorting our market." 
Beijing condemned the move, but von der Leyen insisted that Europe would impose punitive tariffs when its vital economic interests are unfairly jeopardized. "Europe is open for competition, not for a race to the bottom," she said. Von der Leyen appointed former European Central Bank head Mario Draghi as a special advisor to explore how Europe's businesses could compete more effectively with China and the United States. Europe has expressed concern that the Biden administration's industrial strategy, unveiled as part of the Inflation Reduction Act, will lure the continent's leading companies to investment into the United States to the detriment of Europe's future economic dynamism.
With European Parliament elections looming in June 2024, von der Leyen's hopes to secure a second term as European Commission president will depend on strong support from conservative pro-business lawmakers in the European Parliament. She is generally well-respected and has won applause from France, Germany, and other governments for her staunch support of Ukraine, an $800 billion climate legislation package known as the Green Deal, and her efforts to streamline EU bureaucracy and decision-making ahead of the 27-nation bloc's potential expansion to as many as 35 members. 
But as with the fate of so many political careers, von der Leyen's hopes of winning a second five-year term as the leading voice of Europe may ultimately depend on the fickle nature of the continental economy. 
---
Tobias Gehrke, Global Fellow, Global Europe Program at the Wilson Center and Senior Policy Fellow at European Council on Foreign Relations (ECFR)
Europe's economy was front and center when President von der Leyen addressed the European Parliament in Strasbourg last week. "Competitiveness" returned as the dominant leitmotif, replacing more controversial ideas of autonomy, economic security, or sovereignty. With this reference – and by installing the popular Mario Draghi as a prominent spearhead of the competitiveness agenda – von der Leyen gave a nod to the business community to help them "do business easier" rather than only focus on the geopolitics of the economy. 
Behind this window dressing, however, the President doubled down on a more geopolitical Commission. Once again, she framed the green transition as a distinct growth opportunity and geoeconomic agenda for the EU to compete in the global race for industries and supply chains and secure supply chains. Indeed, von der Leyen could point to a number of industrial policy building blocks of this agenda: the Net Zero Industry Act, the Critical Raw Materials Act, and the economic security communication. How to effectively fund these policies remains a headache though. Member states defeated the proposal's new joint financial resources (via debt or taxes) in the hands of the Commission – a Sovereignty Fund. Instead, a new tool called STEP is merely shifting around some existing budgets. Truly a STEP down from von der Leyen's ambition.
It is perhaps for this defeat of a promotive tool that von der Leyen's announcement of a protective tool instead caused controversy: investigating whether Chinese EVs are subsidized and thus may be subjected to import tariffs (similar to the US import tariffs of Chinese EVs of 27.5%). The move will not only rattle China. Many European (read: German) carmakers are producing in China to export from there to global markets and could see this business model disrupted. The outcome of this investigation on EU-China relations could be significant: expect the politics of it to get ferocious long before that.
---
Klaus Larres, Fellow at the Wilson Center and Richard M. Krasno Distinguished Professor of History and International Affairs at The University of North Carolina (UNC) at Chapel Hill
EU Commission President Ursula von der Leyen's speech was her fifth address and possibly her last one as her term expires next year. Not surprisingly, therefore, she used her speech to recommend herself as being worthy of a second term in office as the EU's top politician by focusing on improving the EU's economic performance. 
The speech consisted of two major parts. First, von der Leyen surveyed her performance since 2019. She emphasized her policies of enabling the EU to successfully respond to the COVID-19 pandemic and referred to the enormous financial and military efforts the EU, under her leadership, was making to support Ukraine against Russia's brutal onslaught. She also referred to the EU's significant achievement of passing a Green Deal, a package of 30 pieces of climate legislation meant to help the EU achieve its net zero CO2 emissions goal by 2050.
Second, von der Leyen outlined the agenda for the year left in her term. It was dominated by improving the EU's economic performance and global competitiveness by cutting bureaucracy, improving the bloc's economic skills' basis and concluding new trade deals with Mexico, Australia and, above all, with the South American Mercosur countries. She dramatically announced the appointment of Mario Draghi, the former EU Central Bank chief and Italian Prime Minister, as special economic adviser on the future of European competitiveness. 
Attention grabbing was also her announcement that the EU Commission will conduct an investigation into unfair Chinese competition for the rapidly expanding market for electric vehicles (EV). "Europe will do whatever it takes to keep its competitive edge," she explained. Yet, she did not say that European car manufacturers, including Germany's famed carmakers, are badly lacking behind technologically in the EV and battery market and ought to make a strenuous effort to up their game.
Von der Leyen also announced that Brussels should prepare for a huge enlargement of the EU by up to 10 countries, including Ukraine and Georgia, and needed to address the question how a Union of 37 members "will work in practice." Yet, she only referred in passing to the necessity of significant treaty reforms, which are highly controversial, such as qualified majority voting on foreign policy issues or the creation of an EU-wide finance ministry.
Von der Leyen's wide-ranging and at times thoughtful speech certainly set out a busy agenda for her remaining last year in office. Let's see if she manages to tackle many of these complex issues successfully.
---
Jason C. Moyer, Program Associate, Global Europe Program at the Wilson Center
In last week's State of the Union address, President von der Leyen missed an opportunity to discuss defense and security. Besides a brief mention of aspiring towards a fully realized European Defense Union and reaffirming the importance of allies, von der Leyen failed to delve deeper into the seismic changes occurring in the EU defense space: from surpassing the US as the top aid contributor to Ukraine through its European Peace Facility to shoring up threats to its underdeveloped defense industry.
There are some major accomplishments von der Leyen did not point out that have occurred in the last year. Earlier this year, the EU released its new Maritime Security Strategy, enhancing the EU's role as a maritime security provider. There was an update to the EU's Strategic Compass – a guiding document on strategic threats and a roadmap to deepening EU defense cooperation. A broader view of national security is cementing at the supranational level with the concept of Open Strategic Autonomy and through its economic security strategy. With plans for the first ever EU-led military exercises scheduled for this fall under Spain's EU Presidency and at a time when EU member states expect Brussels to take bold steps in security and defense matters, this was a missed opportunity for von der Leyen to cement herself as a force behind the radical transformation occurring within the EU.
---
Maša Ocvirk, Program Coordinator, Global Europe Program at the Wilson Center
In her SOTEU address President Ursula von der Leyen doubled down on the recent push for further EU enlargement, calling for the completion of the union. This is unsurprising and could be seen as a direct response to the speech by Charles Michel at the Bled Strategic Forum two weeks earlier. Unlike Michel, however, von der Leyen refrained from mentioning any specific timelines for enlargement. Instead, she—in a very Commission-like way—emphasized that enlargement is a merit-based process and announced opening the Rule of Law Reports to accession countries. Whether this will contribute to the pace of necessary reforms in candidate countries or open another can of worms for progress in accession talks remains to be seen. 
Von der Leyen was adamant that the futures of Ukraine, Moldova, the Western Balkans, and Georgia lie in the European Union. She stated that the apparent dichotomy between "deepening integration or widening the Union" cannot remain an obstacle but instead should be "a catalyst for progress." The EU has always adapted its policies and institutions when integrating new members and this time will be no exception. Going from 27 to potentially 36 member states makes new internal reforms—from Common Agricultural Policy to the EU budget—inevitable, with some even requiring treaty changes. The announced pre-enlargement policy reviews are a step in the right direction. However, the fallout from the Conference on the Future of Europe and the ongoing lack of clarity from von der Leyen on how to balance EU reform efforts and progress in the enlargement process could see the EU continuing to struggle going from rhetoric to action for candidate countries. 
---
Philip Reeker, Chair, Global Europe Program at the Wilson Center
"At the start of her mandate Ursula Von der Leyen vowed to build a European Commission that could face global challenges. Four years later her State of the European Union speech proclaimed success, with the European Union "supporting Ukraine, standing up to Russia's aggression, responding to an assertive China and investing in partnerships," and painted a forward-looking agenda for the EU's role as a global actor.
Von der Leyen emphasized the unique role of the Global Gateway and announced the India-Middle East-Europe Economic Corridor project signed on the sidelines of the G20. She also called for "the same unity of purpose towards Africa as for Ukraine," acknowledging slow progress in deepening connections with countries of the continent just across the Mediterranean from Europe's shores. Recently, Europe has been scrambling for solutions on how to engage with the region following the coups in Niger and Gabon.
While missing from her speech, the EU's track record in its neighborhood, especially the Western Balkans, has been disappointing to many. Albania's and North Macedonia's accession paths have been stymied, political instability in Bosnia and Herzegovina continues to obstruct meaningful reforms, and only a day after the SOTEU the EU-mediated talks between Kosovo and Serbia once again failed to reach any movement on implementing the accomplishments of the decade-old Brussels Agreement of the EU-led Dialogue. Von der Leyen might have once again reiterated that the future of the Western Balkans is in the Union, however the answer to the call of history will need to focus on concrete action-oriented solutions to improve working relationships in the region and to improve stability by integrating countries long-promised the opportunity to join their neighbors.
---
Kaija Schilde, Associate Professor of International Relations, Boston University
In her SOTEU address, von der Leyen emphasized EU initiatives to foster a robust European defense industrial base capable of addressing immediate supply chain challenges towards aiding Ukraine as well as advancing long-term objectives of European strategic autonomy, including the European Defense Industry Reinforcement via Joint Procurement Act (EDIRPA) and the Act in Support of Ammunition Production (ASAP). Von der Leyen's vision represents a continuation, not a change, of European defense integration over the last two decades: with incremental efforts to create short-term, ad hoc arrangements preceding more institutionalized and permanent EU defense frameworks. In contrast to this more incremental vision of European defense integration grounded in defense markets, EPP leader Manfred Weber's response to her speech represents a more accelerated vision of EU defense, proposing operational military integration such as "…joint European forces on land, sea, and air by 2030," within a strengthened NATO framework. 
The EU is already becoming a modern security state over defense markets through its regulatory power, shaping European security indirectly through market mechanisms incentivizing the strategies and behaviors of market actors such as firms. EU market power has encouraged European defense firms to ramp up investments in self-funded research and development, fostering a potentially more resilient and diverse defense sector. Von der Leyen's discourse reaffirms the EU's evolving role, not just as a facilitator but as a strategic architect, steering European security by influencing the strategies and behaviors of defense market actors.
---
Ben Baxendale-Smith and Henri Winberg, Staff Assistant Interns, Global Europe Program at the Wilson Center
The 2023 SOTEU showed the European Commission's continued commitment to support Ukraine; Commission President Ursula von der Leyen stated that Europe will be on "Ukraine's side every step of the way." The address looked at the EU's achievements in supporting Ukraine–from von der Leyen showcasing the EU's offer for temporary protection for displaced Ukrainians, as well as the humanitarian assistance and ammunition production provided to Ukraine. The speech also included further measures the EU intends to take, such as extending the temporary protection of Ukrainians in the EU. 
While not mentioned by name, the proposed 50 billion euro Ukraine Facility recovery instrument was referenced in her speech. With new data from the Kiel Institute showing the EU overtaking the US on total aid commitments to Ukraine, the Ukraine Facility will be vital in institutionalizing the EU's future support for Ukraine. Despite the absence of detail potentially casting doubt on its early-2024 start date, the EU has again displayed its resolve and determination in supporting Ukraine 'for as long as it takes.'
Building on the immediate support promised in 2022's SOTEU, von der Leyen looks ahead to EU enlargement. This marks a wider shift towards addressing membership-related issues for Ukraine to meet accession criteria. Therefore, in addition to looking at providing financial support for actively supporting and rebuilding Ukraine, its integration into the European project has become the central focus.
---
Global Europe Program
The Global Europe Program addresses vital issues affecting the European continent, US-European relations, and Europe's ties with the rest of the world. We investigate European approaches to critical global issues: digital transformation, climate, migration, global governance. We also examine Europe's relations with Russia and Eurasia, China and the Indo-Pacific, the Middle East and Africa. Our program activities cover a wide range of topics, from the role of NATO, the European Union and the OSCE to European energy security, trade disputes, challenges to democracy, and counter-terrorism. The Global Europe Program's staff, scholars-in-residence, and Global Fellows participate in seminars, policy study groups, and international conferences to provide analytical recommendations to policy makers and the media. Read more